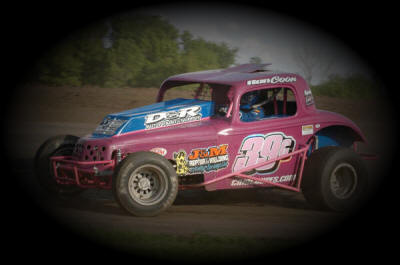 <![if !vml]>

<![endif]>

Well, the 2006 race season has begun. May 13th I headed north to Hartford, South Dakota's I-90 Speedway for a vintage open event. While I have logged two Feature wins at I-90 in the past this year it wasn't meant to be.
The car was the fastest on the track for Hot Laps. I could drive it just about any where I wanted to and the forward bite was real good for the early track conditions.
I started on the pole for the Heat race. Driver error, didn't know we were going to get the green flag the lap we did, set me back to second place. I did hold my position and gave the first place car a nudge between turns three and four to move him up a hair but couldn't get a good run on him on the inside. The car was fast but it had a push on entry and wanted to keep lifting the left front when on the gas, making it a hand full to drive!
Between the Heat and the Feature I did make some adjustments to the car in hopes of improving it. I once again started on the pole but fell to fifth place by the sixth lap. While it was disappointing the car drove well but the line I had to run required a different gear than I have previously run at I-90.
The results aren't what I was hoping for but I always race to win. I learned some things about the changes made to the chassis over the winter. I'm looking forward to the upcoming races and know the first Feature win of the year isn't far away! Below is a schedule of races that I have committed to already for the 2006 season. As always I'm sure I'll pick up a few more. Along those lines I will be headed to New York state to participate in two vintage modified shows with the Midstate Vintage Stock Car Club, wheeling the winning car belonging to Dr. Phil Claussen from Oak Brooke, Illinois, at Brewerton Speedway and Fulton Speedway.

Here are some photos sent to me by track photographers at the I-90 race!!! As you see the car hasn't been lettered yet and I apologize for that but I've talked to David Pritchett, Pritchett Signs, and he said he was really going to try to have the lettering done in time for the June 11th race at Greene County Speedway.
Just click on the small photo to see an enlarged version.

2006 Schedule
June 11 - Greene County Speedway - Jefferson, IA
June 16 - Knoxville Raceway - Knoxville, IA
June 30 - Iowa State Fair Speedway - Des Moines, IA
July 1 - Greene County Speedway - Jefferson, IA
July 2 - Greene County Speedway - Jefferson, IA
August 4 - Brewerton Speedway - Brewerton, NY
August 5 - Fulton Speedway - Fulton, NY
September 9 - Hamilton County Speedway - Webster City, IA

Thanks to all the sponsors!!!

J&M Welding and Repair - Holly Springs, IA

D&R Auto Paint and Supply - Omaha, NE

CAMCOUPES - Blanchard, OK

Pritchett Signs - Carnesville, GA

Bob Keairns - Sioux City, IA

Midwest Auto Glass - Omaha, NE