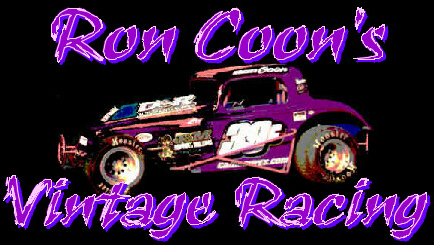 WELCOME TO RON COON'S VINTAGE RACING, THE MOST "HAMMER DOWN " VINTAGE RACING WEBSITE ON THE INTERNET!
FIND OUT WHAT'S GOING ON IN VINTAGE OVAL RACING FROM PEOPLE WHO KNOW WHAT THEY ARE TALKING ABOUT! UNLIKE SOME OF THOSE WANNA BE "HAMMER DOWN" SITES, WE UPDATE EACH AND EVERY MONTH!




KELLY SAYS, "CHICKS DIG A SHARP DRESSED MAN!!! HELP SUPPORT RON COON'S VINTAGE RACING BY PURCHASING A DAVID PRITCHETT RACE SHIRT. TO FIND OUT HOW JUST CLICK ON ME AND RON".
COME ON GUYS, HOW CAN YA SAY NO TO THAT? MAN...IT'S GOOD TO BE THE KING!!!

FROM RON, MUDD BOY, AND DAD...RACE HARD AND SEE YA NEXT MONTH!!!


Please help, click above