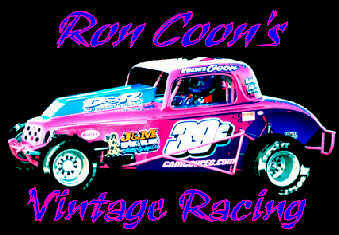 HERE ARE THE MEMBERS OF THE RON COON'S VINTAGE RACING "POSSE". THESE FINE FOLKS MAKE THIS A TRULY "HAMMER DOWN" SITE!!!
"HAMMER DOWN"

Check out the vintage scene from the Kansas and Oklahoma areas with the Kansas wildman, Scotty Anderson!
"ROB'S VINTAGE RACING PHOTO"

You can't miss the great black and whites taken by current day vintage racing photographer, Rob Strabley!
"DWANE LUND"

Don't miss these great early South Dakota Racing Memories!
"OLD SCHOOL"

Jimmie Carmichael brings you oldies from the Ohio Valley!
"TOM McANDREWS PRESENTS"

Tom has some great 50's thru 70's New Jersey racing photos!
"PHIL CLAUSSEN'S VINTAGE MODS"

Check out these great looking east coast mods!
"WILD" BILL PERRY"

Check out the vintage photos Rick Perry has of his dad and others from the early days of California stock car racing!
"JR HUGHES"

For some really great looking present day vintage stock car photos, you're going to have to go here!!
"TERRY KALBERG"

Check out the photos of Terry Kalberg! There's always a great photo in this section!!!
"WISCONSIN MODIFIEDS"

Some really great photos of early Wisconsin Modifieds along with some other related tidbits thrown in from time to time, compliments of John Surges!!!
"BIG" NEAL'S ORANGE BLOSSOM RACING

Check out these great early days of stock car racing photos from the Georgia area!!! Presented by Danny Harrington, in memory of "Big" Neal Harrington.
IF YOU HAVE SOME GREAT VINTAGE PHOTOS, BOTH PAST AND OR PRESENT, AND WOULD LIKE TO BE A "POSSE" MEMBER JUST CLICK THE "CONTACT" BUTTON AT THE TOP OR BOTTOM OF THE PAGE AND SEND ME AN EMAIL!



Please help, click above