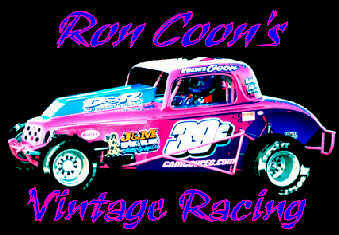 DON'T ANYONE GET NERVOUS!!!
I'M A SELF PROCLAIMED MECHANICAL IDIOT. HOWEVER I DO LIKE MESSING WITH THE SCIENCE OF CHASSIS DYNAMICS. I AM IN NO WAY A CHASSIS EXPERT, FAR FROM IT, BUT I AM AMAZED THAT MANY VINTAGE RACERS DON'T EVEN KNOW THE BASICS OF A RACE CAR CHASSIS.
I HOPE TO OFFEND NO ONE AND ENLIGHTEN MANY IN THIS SECTION. FOR THE BEGINNERS, THOSE MANY BASIC QUESTIONS, AND FOR THOSE VINTAGE VETERANS MAYBE A LITTLE FOOD FOR THOUGHT!
WHILE SOME WOULD LIKE US TO BELIEVE THAT MAKING A CAR HANDLE BETTER IS A MATTER OF SPENDING A BUNCH OF DOLLARS, I'M GOING TO SHOW HOW A LITTLE KNOWLEDGE GOES A LONG WAYS!!
I'M NOT GOING TO GET TO TECHNICAL HERE, JUST THE BASICS. YOU MUST UNDERSTAND THAT WHEN YOU MAKE ANY CHANGE TO A RACE CAR CHASSIS YOU ARE GOING TO EFFECT IT IN OTHER AREAS. MY OBJECTIVE IS TO GIVE YOU SOME SIMPLE, QUICK CURES, THAT YOU CAN TRY.
WHENEVER YOU MAKE CHANGES WRITE THEM DOWN IN A NOTEBOOK. I USUALLY HAVE A BEAT UP ONE THAT GOES TO THE SHOP AND THE TRACK AND ONE AT HOME I TRANSFER EVERYTHING INTO JUST IN CASE THE TRACK ONE IS LOST. THERE IS NOTHING MORE FRUSTRATING AND TIME CONSUMING THAN TRYING TO GET BACK TO WHERE YOU WERE!!
UNTIL NEXT MONTH REMEMBER, KNOWLEDGE GOES A LOT FARTHER THAN MONEY!!!


TIRE AIR PRESSURE: PART 1

QUICK CHANGE GEARS: PART 1

CC-ING: PART 1

CRANKS: PART 1







Please help, click above