"BRAKES"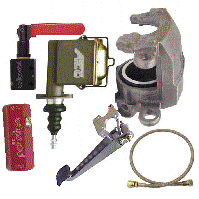 THIS MONTH WE'RE GOING TO TALK ABOUT INLINE PROPORTIONAL VALVE. TO THE BEST OF MY KNOWLEDGE THESE ARE AVAILABLE IN SCREW AND LEVER VARIETIES.
| | |
| --- | --- |
| | |
| LEVER TYPE | SCREW TYPE |
BOTH OF THESE PROP VALVES DO THE SAME THING, DECREASE BRAKE PRESSURE. THAT'S ALL THEY DO. YOU CAN USE THESE TO ADJUST THE FRONT TO REAR BIAS OR USE THEM TO SHUT DOWN THE RIGHT FRONT BRAKE. THESE TWO TYPES OF PROP VALVES WORK THE SAME AS THE BALANCE BAR WE TALKED ABOUT IN "BRAKE 3" ONLY THEY ARE INSTALLED IN THE BRAKE LINE.
INSTALLED IN THE LINE GOING TO THE FRONT BRAKES YOU WILL HAVE MAXIMUM BRAKE PRESSURE TO THE REARS ALL THE TIME AND CAN INCREASE OR DECREASE THE FRONTS TO BALANCE THE CAR. MOST OF THESE TYPES OF VALVES DECREASE LINE PRESSURE BY 57%.
WHICH ONE YOU WANT TO USE IS UP TO YOU. WITH THE SCREW TYPE YOU CAN MAKE MORE PRECISE ADJUSTMENTS. WITH THE LEVER TYPE BIGGER ADJUSTMENTS CAN BE MADE QUICKER, BUT BE CAREFUL NOT TO MAKE TO BIG OF AN ADJUSTMENT A ONCE. THINGS CAN GET REAL INTERESTING IN A HURRY IF YOU OVER ADJUST! I RECOMMEND TO GO ONE CLICK AT A TIME UNTIL YOU FIND THE SWEET SPOT.
INLINE PROP VALVES CAN ALSO BE USED TO SHUT DOWN THE RIGHT FRONT BRAKE WHEN CONDITIONS WARRANT IT. I PREFER THESE OVER VALVES THAT COMPLETELY SHUT OFF THE RIGHT FRONT.
KITS CAN BE BOUGHT THROUGH TILTON DISTRIBUTORS TO MAKE THESE VALVES GOOD AS NEW SO DON'T BE AFRAID TO BUY ONE USED, BUT WITH THE WAY PRICES ARE COMING DOWN ON THESE UNITS YOU'RE ALMOST BETTER OFF TO GO NEW.
HOPE THIS HAS HELPED. IF YOU HAVE ANY QUESTIONS JUST SEND ME AN EMAIL.
---