"BRAKES"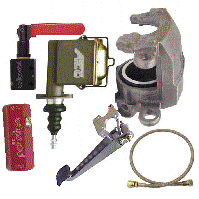 THIS MONTH WE'RE GOING TO GET INTO THE VARIATIONS OF PEDAL ASSEMBLIES. ALL OF THESE ASSEMBLIES HAVE BALANCE BARS WHICH WE WILL GET INTO AT A LATER TIME.
THE FIRST IS THE FLOOR MOUNTED UNIT.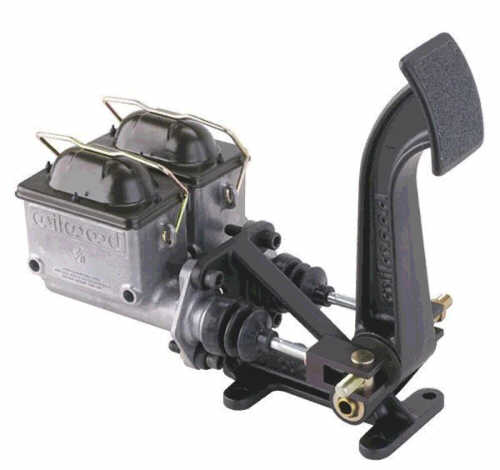 I KNOW I'LL GET SOME EMAIL ON THIS, BUT, JUST SAY NO! ABOUT THE ONLY REASON THEY WERE DEVELOPED WAS SO PAVEMENT GUYS COULD GET THEM LOWER IN THE CAR. ALSO IF YOUR MASTER CYLINDERS ARE IN THE PLANE OF OR LOWER THAN YOUR CALIPERS YOU'RE GOING TO HAVE TO INSTALL RESIDUAL VALVES IN YOUR LINES TO KEEP THE BRAKE FLUID FROM DRAINING BACK INTO THE MASTER CYLINDERS. ALSO THE MASTER CYLINDERS ARE MUCH MORE LIKELY TO BE DAMAGED WHEN INVOLVED IN AN ON TRACK INCIDENT THAN IF THEY ARE MOUNTED HIGHER.ONE LAST THING, IF YOU USE A STANDARD LENGHT BALANCE BAR ADJUSTER YOU WILL HAVE TO ADJUST IT SOMEWHERE AROUND KNEE LEVEL.
NEXT WE HAVE THE FORWARD MOUNTED SWING ASSEMBLY.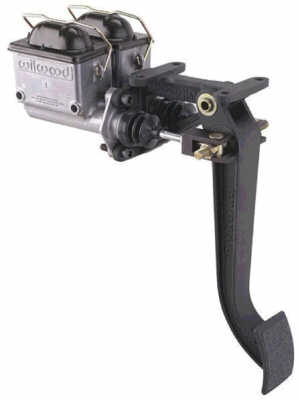 THIS IS THE SET UP MOST CARS USE. IT PUTS THE MASTER CYLINDERS UP OUT OF HARMS WAY FOR MOST ON TRACK INCIDENTS. BECAUSE IT MOUNTS THE MASTER CYLINDERS HIGHER THAN THE CALIPERS RESIDUAL VALVES ARE NOT NEEDED. ALSO BLEEDING THE BRAKES IS EASIER. ONE THING YOU HAVE TO WATCH OUT FOR IS HEADER CLEARANCE IF YOU MOUNT THE ASSEMBLY TO A MOTOR PLATE THAT DOUBLES AS THE FIREWALL. CHECKING FLUID LEVELS WITH THIS SET UP SIMPLE AND UP WHERE YOU CAN DO IT WITH EASE. WITH A STANDARD BALANCE BAR ADJUSTER YOU CAN ADJUST YOUR BIAS AT A POINT CLOSER TO THE STEERING WHEEL MAKING ADJUSTING MUCH EASIER AND SAFER IF SOMETHING UNEXPECTED HAPPENS. ONE LAST THING, IF YOU DO HAVE TO MOUNT THEM NEAR A HEADER PIPE PROVIDE SOME KIND OF HEAT SHIELD TO HELP KEEP THE FLUID AS COOL AS POSSIBLE.
LAST BUT NOT LEAST IS THE REVERSE MOUNTED SWING ASSEMBLY.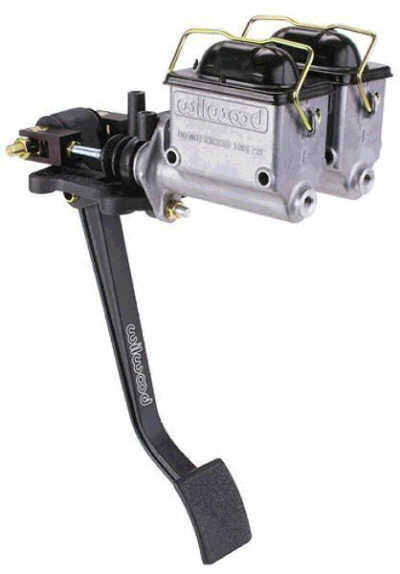 TO ME THIS IS THE WAY TO GO IF YOU CAN FIT IT IN YOUR CAR. FOR STARTERS THE MASTER CYLINDERS ARE OUT OF HARMS WAY AND AWAY FROM HEADER HEAT. IT IS THE BEST WAY TO GO IF YOU HAVE A REALLY CRAMPED ENGINE COMPARTMENT AND DON'T WANT TO ADD TO THE ALREADY TIGHT SPACE. WHILE CHECKING FLUID LEVELS MAY NOT BE AS EASY AS THE FORWARD MOUNT ASSEMBLY IT ISN'T ALL THAT HARD. AS WITH THE FORWARD MOUNT UNITS A STANDARD LENGTH BALANCE BAR ADJUSTER CAN BE MOUNTED NEAR THE STEERING WHEEL FOR FAST AND SAFE ON THE FLY ADJUSTMENTS.
MAKE SURE TO CHECK IN NEXT MONTH AND I'LL GIVE YA THE LOW DOWN ON BALANCE BARS AND HOW TO USE THEM FOR ON TRACK ADJUSTMENTS!
---