"BRAKES"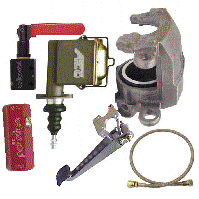 THIS MONTH WE'RE GOING TO START IN WITH THE BRAKING SYSTEM.
THE BRAKING SYSTEM IS PROBABLY THE MOST MISUNDERSTOOD SYSTEM ON A RACE CAR. I'M GOING TO BE TALKING ABOUT DIRT TRACK DISC BRAKES BUT THE THEORIES SHOULD WORK WITH DRUMS IN MOST CASES. AS ALWAYS, I'M NO WIZARD AND THERE ARE ALWAYS VARIABLES THAT ARE OUT OF MY CONTROL. WITH THAT SAID LET'S GET GOING ON THE FIRST INSTALLMENT OF, "BRAKES" !
IT'S A SIMPLE FACT THAT YOU HAVE TO HAVE GOOD BRAKES TO GO FAST AND THAT GOOD BRAKES WILL ALLOW YOU TO MISS ACCIDENTS THAT YOU WOULDN'T WITH CRAP BRAKES. THE DAYS OF TOSSING THE CAR INTO THE CORNER TO SCRUB OFF SPEED ARE LONG GONE NOT TO MENTION IT'S A VERY UNPREDICTABLE WAY TO SET A CAR ENTERING THE CORNER.
I'VE HAD MORE THAN ONE DRIVER TELL ME THEY DON'T USE THE BRAKES OR USE THEM VERY LITTLE. TO ME THAT'S A DOUBLE EDGED SWORD. ON ONE HAND I'M GLAD TO HEAR THAT BECAUSE I'LL DRIVE DOWN UNDER THAT DRIVER AND PASS 'EM EVERY TIME. ON THE OTHER HAND THOSE ARE ALWAYS THE DRIVERS THAT TRY TO GET UNDER YOU AND USE THE SIDE OF YOUR CAR TO TURN!
GOOD BRAKES CAN AND WILL MAKE A HUGE DIFFERENCE IN THE WAY YOUR CAR HANDLES. YOU MIGHT JUST FIND THAT WHAT YOU HAVE CONSIDERED CHASSIS PROBLEMS HAVE BEEN NOTHING MORE THAN BRAKING PROBLEMS!
IN THIS SECTION I'M GOING TO COVER EVERYTHING ASSOCIATED WITH THE BRAKE SYSTEM FROM THE PEDAL ALL THE WAY TO HOW TO ADJUST THE BRAKES DURING THE RACE. BRAKES CAN BE VERY EXPENSIVE BUT I'M GOING TO TRY TO SHOW YOU WHERE TO SPEND YOUR HARD EARNED $$ AND WHERE TO SAVE IT!
STOP IN NEXT MONTH AS THE JOURNEY CONTINUES!
---